FSU's work on menopause supports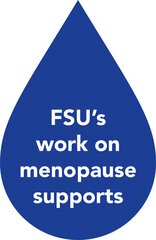 The FSU launched our menopause campaign in 2021, and since then we have successfully negotiated menopause policies in the major banks in Ireland and Northern Ireland.
Our campaign has paved the way in negotiating robust menopause policies across the island of Ireland, and as part of that we have secured 10 days' paid leave per year for menopause-related issues in many of our workplaces.
As part of our years-long campaign, we carried out research, written workplace policies, and surveyed our members in the sector to get their views of how menopause has affected their working lives.
What became glaringly obvious was just how slow employers were to recognise that women of menopausal age may need unique consideration. Menopause is a natural stage of life for women, with symptoms ranging from mild to severe, and some workers require more support than others.
Menopause can be a difficult and stressful time for workers, and in the majority of cases employers just do not deal with the issue appropriately.
It is common for those suffering in the workplace not to raise the issue with their employer, as there is a fear of stigma associated with menopause. There is often a belief that symptoms are not taken seriously, or that highlighting a need for support may have a negative effect on performance reviews.
We are leading the way in changing how menopause is viewed in the workplace.
The FSU's 2021 survey on menopause garnered insights from over 1300 respondents and over 6000 personal comments.
98% of respondents told us they didn't have any menopause supports in work, yet 89% said that menopause impacts their working life.
The gender of managers influenced discussions about menopause for three-quarters of respondents.
Moreover, 96% favoured training for management and union representatives to support women navigating menopause, and nearly two-fifths said that menopause was treated as a joke in work.
Staggeringly, just 15% of people told us they were comfortable discussing menopause at work.
The FSU's document You Don't Just Go through Menopause at Home, released on World Menopause Day 2022, encompasses subjects like the significance of menopause as a trade union issue, its effects in the workplace, and a best practice menopause workplace policy.
We are continuing to advocate for greater menopause supports across the sector, and we provide advice for members and union representatives about how to address menopause at work.