Employee Experiences of Remote Working in Financial Services
Executive Summary
This research report presents the results of a large-scale survey of financial services employees during COVID19 public health restrictions in 2021. The survey sought to establish the experiences and attitudes of employees to remote working.
The findings show that survey respondents view autonomy, time planning and work-life balance as some of the positive aspects of remote working, but areas of concern include the lack of employer-provided financial supports, the infringement of work on employee wellbeing and personal commitments, and employees' concern about career opportunities.
An important contributor to decent work is the level of control employees have over their working conditions. The survey asked respondents about the level of influence they had on decision-making in their organisation. The results indicate that the aspect of work that employees had most influence over was their starting and finishing times, but significant participation gaps remain. Substantial portions of employees have little influence particularly in regard to the number of hours worked, work location, and job tasks.
The report makes recommendations for employers and the government. Employers need to engage with unions to negotiate the issues of concern arising from the survey including in relation to the costs of remote working; employee preferences on flexibility; employee workload and; career progression frameworks. Government regulation should support trade union representation of workers and ensure the effective implementation of the Code of Practice on the Right to Disconnect.
Click on cover to read or download the report.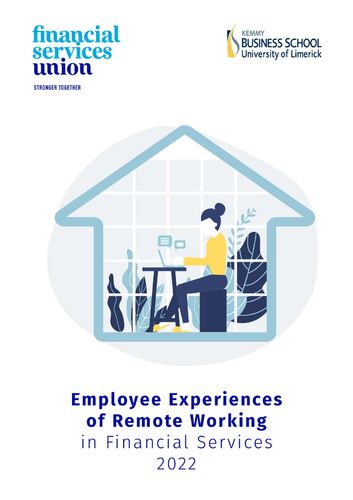 Gareth Murphy sits down with Dr Michelle O'Sullivan, Kemmy Business School in University of Limerick.
Dr Michelle O'Sullivan of the Kemmy Business School in the University of Limerick speaking at the launch of the 'Employee Experiences of Remote Working in Financial Services' report.