Trade Union Recognition and Collective Bargaining
Trade Union Recognition and Collective Bargaining is key to a fairer and more equal society. Collective bargaining is proven to deliver better wages, working conditions and productivity outcomes. In order to increase collective bargaining in the economy we need an institutional framework that helps and supports workers who want to unionise. We need new pro-union laws that provide workers with the right to join and organise their union, the right to be represented and bargain and the right to act. We need laws for a fair work. To read more click on the below document and if you work in finance or technology sectors and are not a union members you can join us online at the below link.
Unionising and collective bargaining hold key to a fairer economy and more equal society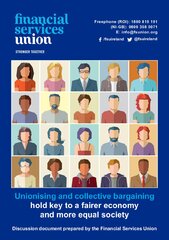 Click on image to read the Discussion document prepared by the Financial Services Union
Our Ireland Thinks Pool Results /assets/files/pdf/ireland_thinks_poll.pdf
Membership of the FSU
The FSU represents and supports its members across the North and South of Ireland, and in the UK. If you would like to find out about becoming a member, and the benefits of FSU membership, click HERE.
If you need any advice or guidence on workplace issues, call our freephone advice centre at:
ROI 1800 81 91 91 NI 0800 358 0071 or email us at advice@fsunion.org