New FSU 'Union Difference' Video
Issued : 13 June 2018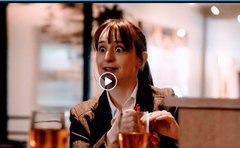 A still from our popular "Union Difference" video.
At our recent conference in Limerick delegates were given an insight into our strategy to reach out to staff who currently aren't members of FSU. 
This includes staff in workplaces where we already have a strong presence and staff in workplaces with scant trade union organisation at present.
Part of this strategy includes the use of video, podcasts and social media to reach out to the new generation of financial services workers.
Implementation of that strategy has already begun and this week we launched our new 'Union Difference' video.
You can view the video here on our Facebook page or on the www.fsunion.org homepage.  It would be great if you could share our video on your social networks.
The video takes the real life experience of young staff in financial services and highlights the fact that staff in unionised employments have better wages, better holidays and safer and healthier work environments.
This is just one of a number of initiatives we're developing to reach out to people who should be our members.