Workplace Stress

Work-related stress develops when workers are unable to cope with the demands being placed on them by their employers.
This can be caused by a number of factors like:
insufficient attention to job design,
inadequate training and support,
the way the work is organised; or
the nature of the tasks involved.
Most workplaces come under pressure from time to time as a result of sudden surges in activity or unforeseen emergencies - and few staff have a problem with helping out in these situations.
But when these temporary emergencies become a permanent crisis of a long-term systemic nature - then we are talking about more than just the everyday ebb and flow of work pressures.
This is workplace stress which reflects a toxic work culture and poor operational decision-making cascading down throughout the business.
Work-related stress is on the rise in many parts of the world. It now ranks as the top health and safety issue in the UK - accounting for 40% of all cases reported in the 2012 Labour Force Survey.
Stress is also now the second most reported work-related problem in the EU.
Workers in the banking and financial services sector can identify with these findings because for them, workplace stress has never been more intense.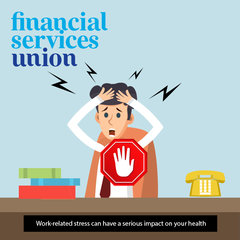 We've a dedicated online resource in relation to work-related stress.
It contains accessible, informative guidance and advice.  We've also worked with our charity partner AWARE and AWARE NI to produce five short videos, presented by Dr. Claire Hayes, that provide practical tips on managing stressful situations.
Just click here to access the online resource.