YOUR SECTOR COMMITTEE PLAYS A VITAL ROLE IN ORGANISING OUR UNION
You can download this document here:


The Financial Services Union is built on a network of locally elected representatives. We pride ourselves on being our members voice in negotiations with employers on critical workplace issues such as pay, the right to disconnect, leave entitlements, and health and safety. We are a representative and campaigning union based on shared common values of decency, fairness, equality, and respect in the workplace.
There are five Sector Committees which operate in the following sectors:
Allied Irish Bank Group;

Bank of Ireland Group;

Danske Bank Group;

Technology and Services; and

Ulster Bank Group.
Each Sector Committee is responsible for managing all the interactions between the Union's members and the employer or employers within the sector.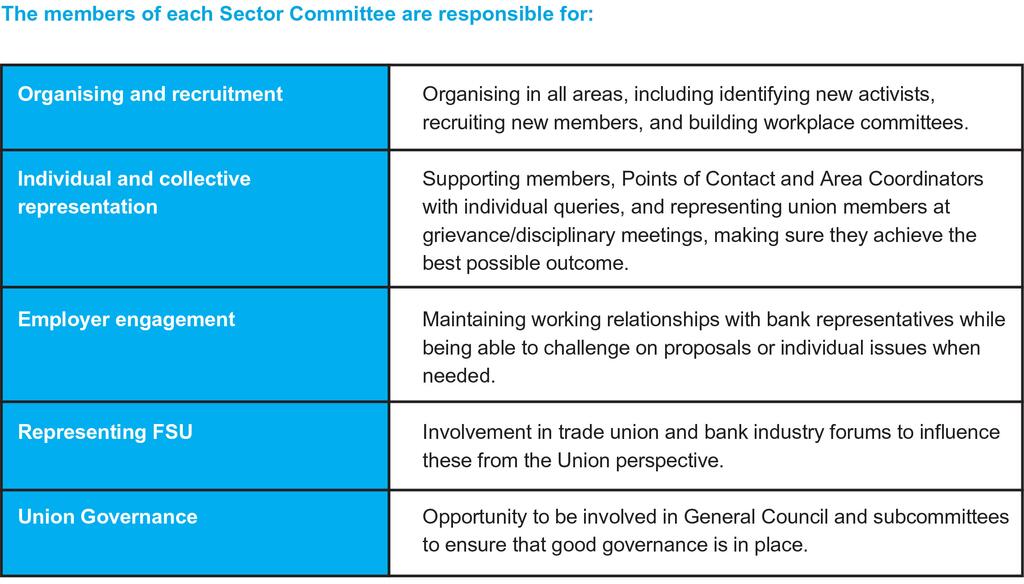 Stephen Street Upper, Dublin 8, D08 DR9P. - T: +353 (0)1 475 5908
Quaygate House, 5th Floor, 15 Scrabo Street, Belfast, BT5 4BD. - T: +44 (0)28 90200130
E: info@fsunion.org www.fsunion.org