FSU puts case for staff as Govt embarks on pay review in banks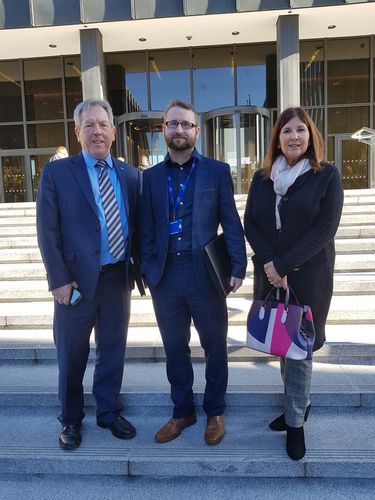 The priority for the forthcoming pay review in banks with a state shareholding must be frontline staff.  That was the clear message from the Financial Services Union delegation which met with Department of Finance officials in recent months.
The Department has contracted consultants Korn Ferry to carry out a review of pay in the 'covered institutions'.  At its meeting with the Department your Union outlined the enormous sacrifices that staff in these banks have made to help return the banks to profitability.  We also strongly made the case that these workers, not senior executives, have to be the priority in any pay review.
The FSU delegation comprised President, Sharon McAuley, Acting General Secretary, Gareth Murphy and Senior Official Billy Barrett.
Commenting on the meeting Gareth Murphy said, "This was a constructive, frank meeting with the Department and the consultants, Korn Ferry.  We strongly argued the case for staff within the sector and our very real concerns that bonuses for top executives led to the type of short-term thinking that caused so much damage in the past.  In terms of reward our message was clear – staff should be the priority and any sustainable reward framework needs to address upskilling, flexible working and secure employment in addition to pay."
FSU will now send a submission to the Department and the consultants to ensure that the voice of staff is heard loud and clear.