A Century of Progress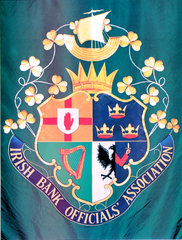 The IBOA Banner
On September 27, 1917 a group of bank workers met in the Glentworth Hotel in Limerick to begin the process that was to lead to the formal establishment of the Irish Bank Officials' Association on March 17, 1918.
This brave and forward-thinking group were responsible for the establishment of a very effective trade union, which has represented bank staff professionally for over ninety years and has campaigned to improve the working conditions and living standards of workers in the financial services sector.
From the outset IBOA has represented financial services staff throughout the island of Ireland.
Since the expansion of two major Irish banks into Great Britain in the 1960s, IBOA became a trade union operating in three jurisdictions – the Republic of Ireland, Northern Ireland and Great Britain.
Although much has changed since 1917, the fundamental issues of pay, pensions, stress, bullying and harassment – which motivated the founders of the Union – are still crucial concerns for workers in the financial services sector today.
Reflecting the rapidly changing nature of the financial sector, the Union was renamed IBOA The Finance Union in 2007 - before becoming the Financial Services Union in 2016.