General Secretary
The Position
The General Secretary is appointed by the General Council as a permanent full-time officer with responsibility for directing the work of the Union's staff and for co-ordinating the Union's day-to-day operations in line with the objectives set by the Union's General Council.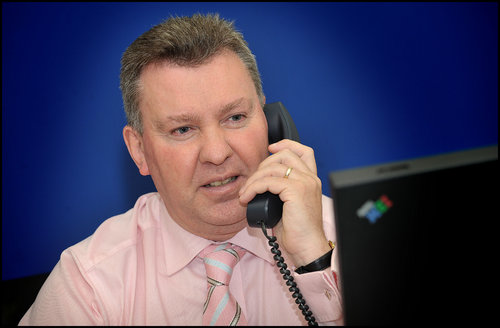 Larry Broderick on phone
The Person: Larry Broderick
General Secretary since 2001, Larry Broderick has been employed by the Union since 1985 and has wide experience in industrial relations and the financial services sector. A graduate of UCD and holder of a MBS, Larry Broderick leads a professional team in the Union's Head Office. A member of the General Executive Council of the Irish Congress of Trade Unions and of the Finance Sector Committee of UNI-Europe, Larry has served on a number of national and European bodies representing staff working in the financial sector.
A keen sportsman in his youth, Larry Broderick won a Dublin minor football title in 1976 with the Crumlin GAA club before captaining the club's hurling team to a Leinster club senior hurling championship in 1979 – becoming the only Dublin team to have ever done so. He maintains a close interest in the games. He is also an accomplished musician - playing the flute and the whistle - inspired by his late father, Vincent, a noted exponent of Irish traditional music.